Keep these safety tips in mind this Memorial Day weekend
by Danielle Guichard | May 25, 2023 | Safety reminders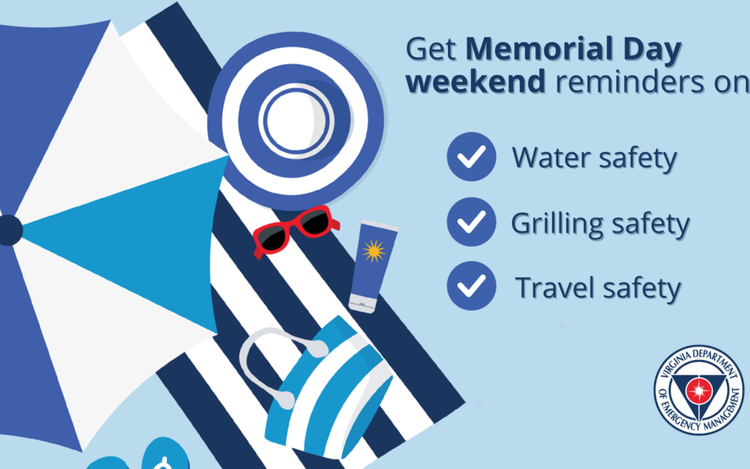 RICHMOND — Memorial Day weekend is considered the unofficial start of summer. Before you and your family and friends partake in fun summer activities, make sure you keep the following safety tips in mind:
Grilling/Fire Safety from USFA:
• Use propane, charcoal, and wood pellet barbecue grills outdoors only. Indoor use can cause a fire or carbon monoxide poisoning.
• Place your grill well away from siding and deck railings and out from under eaves and overhanging branches. Do not store or use a grill on a porch or balcony.
• Use chimineas, outdoor fireplaces, and fire pits outdoors only and at least 10 feet away from your home or anything that can burn.
• Build campfires at least 25 feet away from tents, shrubs, and anything that can burn.
• Find more fire and grilling safety tips here.
Water/Boating/Beach Safety:
• Always swim with a buddy. Even at a public pool or a lifeguarded beach, use the buddy system.
• Adults need to stay with children when they are around water, even when a lifeguard is present.
• Keep the pool and deck clear of floats, balls, and toys after you get out of the pool.
• Wear a life jacket. No matter what activity you have planned on the water.
• Make sure your life jacket is U.S. Coast Guard-approved, appropriate for your water activity, and fits properly. A life jacket that is too large or too small can cause different situational problems.
• Take a boating safety course. Learn valuable tips that can help save your life in unexpected situations.
• Carry all required safety gear. Make sure your boat is prepared. There are many items that need to be checked and rechecked on any boat.
• Check the weather, including the water temperature. Know the latest marine weather forecast prior to going out and keep a regular check for changing conditions.
• If you're at the beach, check if there are any warning flags up. Ask a lifeguard about water conditions, beach conditions, and potential hazards.
• If someone is in trouble in the water, get help from a lifeguard. If a lifeguard is not available, have someone call 9-1-1. Throw the victim something that floats – such as a lifejacket, cooler or inflatable ball. Do not attempt a rescue yourself unless you are a trained beach lifeguard.
• Find more boating safety tips here.
• Find more beach safety tips here.
• Find more pool safety tips here.
Travel Safety from VDOT:
• Know before you go: Use VDOT's 5-1-1 service that offers information about construction, traffic, incidents, and congestion.
• If you plan to drink, have a designated driver.
• Don't drive distracted and speak up if someone else is doing so.
• Buckle up and ensure children and car seats are secured.
• Maintain a safe distance from the vehicle in front of you.
• Use your signals for lane changes and turns.
• Cars can heat dangerously fast on hot days: don't leave children, elderly persons, or pets in parked cars for any amount of time.
• Find more travel safety tips here.
###
Inquiries can be sent to pio@vdem.virginia.gov