WHEN: Tuesday, February 7th, 2023 from 8:00 am to 4:00 pm
WHERE: Virginia Beach Office of Emergency Management 
2408 North Landing Rd. Bldg. 21, Room 101
Virginia Beach, VA 23456
About this event
Helpful Information:
We use EVENTBRITE for the course registration process.
We use TEACHABLE as our online learning management system to manage all course content (pre- and post-course tests, participant guide, course evaluation, etc.).
There are TWO EMAILS you will need to view to finalize registration: One email from Eventbrite and one email from Teachable. The Teachable email will be from Alliance Solutions Group, Inc.
NOTE: If you already have a Teachable account with us you will not receive an email from Teachable, but you will be automatically enrolled in the course.
Ensure you are fully registered for BOTH platforms at the end of the registration process outlined below.
You will need to create Eventbrite and Teachable accounts (if you don't already have them) after clicking the links in the emails to finish registration for the course.
If you want a CERTIFICATE for attending this course, you MUST FINISH REGISTERING with Teachable.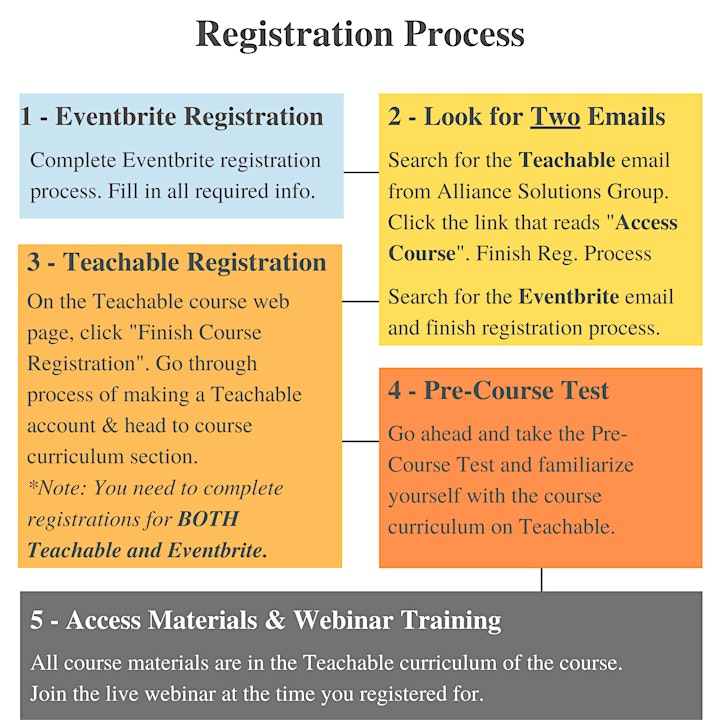 Additional Registration Guidance:
You may be required to create both Eventbrite and Teachable accounts to complete the registration for both platforms. Check your email inbox (and junk mail) for instructions on completing the process for both platforms.
Note: Your Eventbrite registration will automatically register you in the Teachable course with your email address (but you will not be fully registered). Please use the same email address when finalizing the Teachable registration so you can easily access the course curriculum.
Fill in ALL the required elements of the Teachable registration form.
The Participant Guide will ONLY be in the Teachable course curriculum.
Please remember to bring a laptop or other device for this class.
Course Details:
Description:
This course provides a framework for community leaders to accelerate economic recovery through the application of community lifelines, essential crisis leadership skills, decision theory, whole community engagement, and resilience strategies. Participants will explore recent and relevant case studies and their economic impact, gain an understanding of how to stabilize lifelines, develop recovery outcomes, and apply the concepts and theory through a practical exercise. Participants will choose one of three scenarios: cyber incident, hurricane, or wildland fire to further localize the training. The last lesson in this course will retrospectively examine the case studies and the practical exercise to facilitate discussion and devise strategies to better prepare the community through mitigation, recovery, and community resilience.
Delivery: 6 hour live course
Certificate: FEMA Certificate issued for successful completion of the course