WHEN: Monday, February 6th, 2023, from 8:00 am to 3:00 pm
WHERE: Virginia Beach Office of Emergency Management 
2048 North Landing Rd Bldg. 21, Room 101
Virginia Beach, VA 23456
About this event
Helpful Information:
We use EVENTBRITE for the course registration process.
We use TEACHABLE as our online learning management system to manage all course content (pre- and post-course tests, participant guide, course evaluation, etc.).
There are TWO EMAILS you will need to view to finalize registration: One email from Eventbrite and one email from Teachable. The Teachable email will be from Alliance Solutions Group, Inc.
NOTE: If you already have a Teachable account with us you will not receive an email from Teachable, but you will be automatically enrolled in the course.
Ensure you are fully registered for BOTH platforms at the end of the registration process outlined below.
You will need to create Eventbrite and Teachable accounts (if you don't already have them) after clicking the links in the emails to finish registration for the course.
If you want a CERTIFICATE for attending this course, you MUST FINISH REGISTERING with Teachable.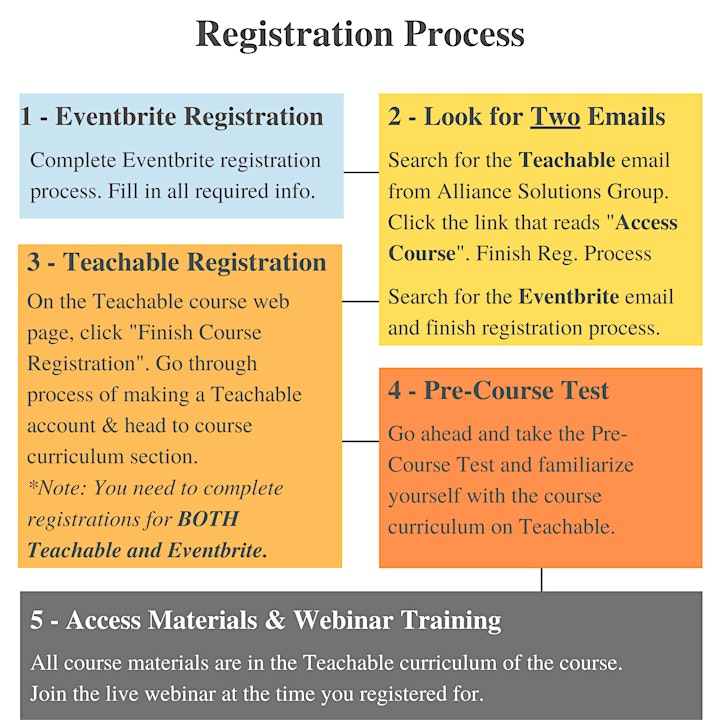 Additional Registration Guidance:
You may be required to create both Eventbrite and Teachable accounts to complete the registration for both platforms. Check your email inbox (and junk mail) for instructions on completing the process for both platforms.
Note: Your Eventbrite registration will automatically register you in the Teachable course with your email address (but you will not be fully registered). Please use the same email address when finalizing the Teachable registration so you can easily access the course curriculum.
Fill in ALL the required elements of the Teachable registration form.
The Participant Guide will ONLY be in the Teachable course curriculum.
Please remember to bring a laptop or other device for this class.
Course Details:
Description: Course AWR-414 provided an introduction into creating economic resilience for economic development agencies, businesses, and community members. This course is a continuation of these topics but entails applications of principles learned for specific business cases and regional economic strategies. It will enable economic development organizations that work with domestic and international businesses engaged in trade and export to utilize various tools to understand disaster risks and consequence analysis.
Delivery: 5 hour live course
Certificate: FEMA Certificate issued for successful completion of the course